We have been involved with tuning direct injection turbocharged performance engines for over a decade – so naturally it was time apply our knowledge to one of the most iconic sport compact vehicles on the road today: The Subaru WRX.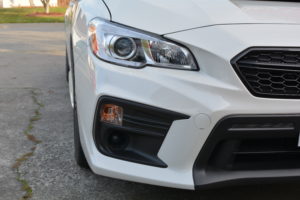 Initial impressions with the car are that unlike some of its competitors it feels very much like a white canvas. There are no sound symposers, pops, burps or fancy torque vectoring differentials. The full time AWD system adds great traction and the low center of gravity of the drivetrain along with suspension tuning make the car feel very stable. A good sign when you plan on adding power.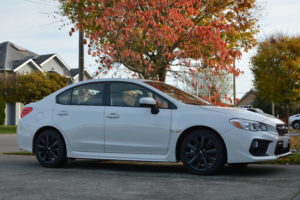 Out of the box, it is not impressively fast or punchy. This white canvas feel to the car (a bit of a throwback) is excellent in the sense that it gives the enthusiast a lot to build on an individualize. Our plan is to do just that – build on the character of the car and add enjoyment to the driving experience.
Our first modification (after 160 miles of ownership) was a COBB Accessport. This is the tool of choice for the other platforms we calibrate and it is very well featured on the Subaru platform.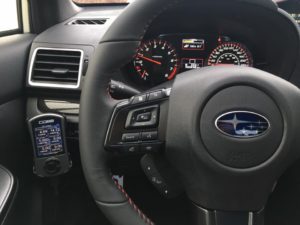 We dug right in and built our calibration on the otherwise bone stock 2018 WRX. Below you will see a power comparison between Stock, COBB Stg1 91, and the Stratified tune on the same 91 octane fuel.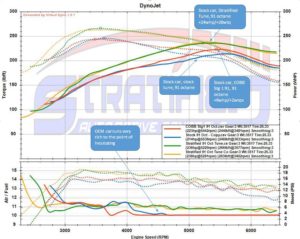 The interesting thing is that stock (as well as with the COBB tune) the car ran so rich that it actually hesitated under wide open throttle operation. The OEM MAF calibration was around 10% rich using our ethanol free fuel. This is something to keep in mind if your fuel has low ethanol content and if you feel hesitations during acceleration – even stock. Leaning the curve slightly as well as adjusting the MAF and utilizing the wideband O2 under WOT are effective ways we used to address these issues.
You can see that the COBB OTS tune is quite conservative picking up power in the midrange with mild boost increases over stock.
Aside from running a leaner (yet still very much safe) air-fuel ratio which improved driveability and response, we found that even on 91 fuel we were able to add repeatable performance and improve response over the COBB OTS Tune. We did this by increasing boost, adjusting timing, refining boost control, and tuning variable valve timing.
Fuel quality plays a large role in limiting performance beyond this point. We will be working with ethanol shortly as well as adding parts to the vehicle. Stay tuned as we continue the journey with the Subaru DIT and provide custom tuning support for the FA20DIT engine.
The Stratified Team