Last weekend we had the opportunity to install the COBB turboback exhaust on our Stratified Tuned MK6 GTI. This is a very nice piece of kit and it consists of a full 3″ exhaust from the turbo back replacing the OEM 2.4″ exhaust.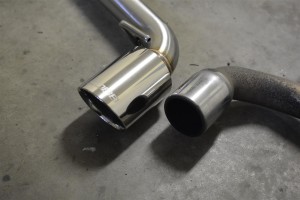 This short video overviews the constructions of the exhaust and its features:
Now … what about performance? Before getting to the nitty-gritty; where is the performance gained with the turboback? There are two avenues actually.
The first is the drop in post turbine pressure. By replacing the two OEM catalytic converters with a single high flow unit and enlarging the piping diameter from 2.4″ to 3.0″ you are dropping the pressure right after the turbine of the turbo. This in turn increases the pressure DIFFERENTIAL between the exhaust gases before and after the turbo. The end result is that the turbine has more energy input and that in turn means faster spool and more air delivered to the engine via the compressor which is now spun faster throughout the entire rev range.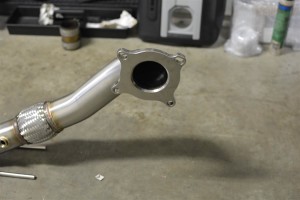 The second area where performance is gained is a drop in pumping losses. The engine must pump exhaust out of its cylinders and that is energy that is wasted. By making the process easier, the engine doesn't waste as much energy doing this and that translates into more power making its way to the wheels.
After verifying repeatability and ensuring that all other variables are kept consistent (temperature, 91 octane fuel) the downpipe and catback gained +13whp and +18wtq (red line). This is very much in line with our expectations. A catless downpipe will add a little more but at this point it's the turbocharger that's the biggest restriction in the exhaust stream. The car previously had a Stratified Tune via the COBB AP, COBB intake and diverter valve replaced with no other modifications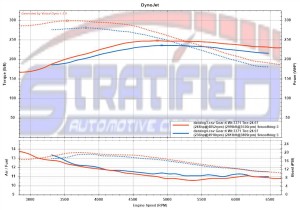 The exhaust sound is very much a personal preference … so I will another video do the talking.
What's next? Time to get more consistent torque delivery with a look at DSG tuning. After this, revisiting E85, intercooling, AND and then moving onto a larger turbo! Stay tuned!